Baxter has a long history in the supply of aseptically compounded medications to patients across Australia and New Zealand. Through dedication to quality and customer service we have grown to become a trusted service partner to public and private hospitals and clinics throughout the ANZ region.
Baxter provides an individual service tailored to meet your specific needs, delivering a total solution for all of your aseptic antibiotic compounding requirements. Our product range includes;
Chemotherapy
Monoclonal Antibiotics
Antibiotics
Analgesia
A broad range of other IV additives
So, what's the process when you place an order with Baxter Compounding?
We've broken down the steps from placing an order to when you can expect the compounded medicines reach your hands.
Interested in our compounding service? Arrange a call with one of our sales specialists here or call us on 1800 BAXTER (229 837).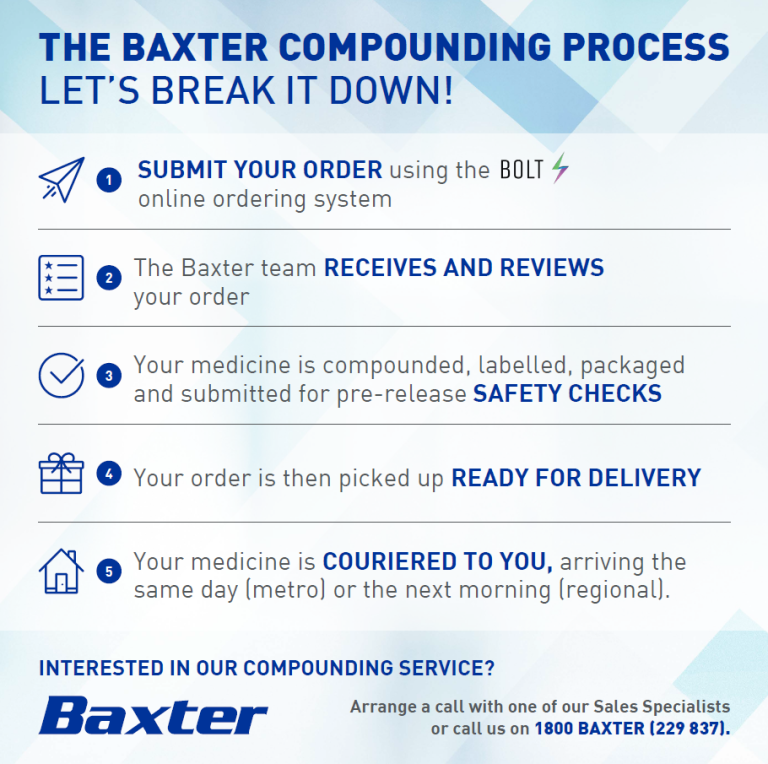 Baxter Professional Benefits
Your portal to a world of information and tools designed specifically for busy Healthcare Professionals.
Access clinical reference, how-to videos, interactive learning modules, industry news and events and much more. Access is free and registration is simple.